Douglas regeneration: £21m plans submitted for Manx capital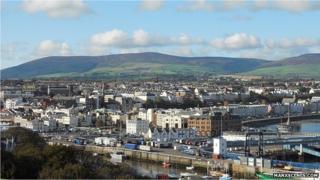 Multi-million pound proposals to enhance the Isle of Man's capital have been submitted for planning approval.
The infrastructure department said the £21m plans aim to establish Douglas as a leading business and tourism centre.
Ideas put forward include road and drainage improvements and the creation of a cultural centre on the promenade.
They would also mean removing the twin horse tram tracks from the centre of the promenade and creating a single track on the walkway.
Minister Phil Gawne said: "It is a once-in-a-generation opportunity to deliver an exciting, inspiring scheme.
"The design will no doubt challenge people's traditional views - the plans represent a more progressive and inclusive approach to street design."
Ministers hope that a new Cultural Quarter, near the Gaiety theatre on the promenade, will encourage public art and performance.
If the plans, which go on display on 8 May at the Sea Terminal, are approved they will then go to Tynwald in October.
Subject to political approval, work is scheduled to begin in November.