Ben-my-Chree: Isle of Man ferry out of action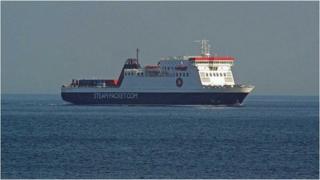 Sailings between the Isle of Man and Birkenhead have been cancelled until further notice after safety concerns over the vessel Ben-my-Chree.
A statement on Isle of Man Steam Packet Company's Facebook page said the ship had "developed a fault with her starboard steering gear".
The company said it was trying to get the vessel Manannan out of its winter overhaul and back in to service.
Chief executive Mark Woodward said the company apologised to customers.
---
Kelly Foran, BBC News, Isle of Man
There is a huge demand at Christmas from the Isle of Man for sailings to Birkenhead, Dublin and Heysham.
The Ben-my-Chree travels to all three destinations. Today's sailing to Birkenhead is already cancelled and I know many people have been trying unsuccessfully to get through to the reservation line, leaving lots frustrated.
The Steam Packet Company has promised it will bring its fast craft vessel out of its winter overhaul, but the weather will need to stay calm as it cannot sail in gales.
Hopefully the company will left passengers know about alternative arrangements and any backlog.
---
The company statement said that Ben-my-Chree's rudder "would not respond reliably to inputs from the bridge", adding, "As this is a critical safety issue she will not be able to sail until we have the specialist system manufacturer identify, and repair, the fault."
It added: "Unfortunately, because of the time of year, the manufacturer has indicated that it may be some time before they are able to reach us to assist with the repair."