Robert Campbell death: Tributes to teacher struck by coach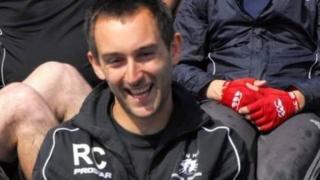 A teacher who died after he was hit by a coach on the Isle of Man has been described as "one of those individuals you could not fail to like".
Robert Campbell was struck by the vehicle in the early hours of Saturday on Richmond Hill, Braddan.
The 31-year-old, from Santon, had been a PE teacher at St Ninian's High School in Douglas since 2007.
Head teacher Andy Fox said the school was in "shock" saying he "saw potential in all and did his best to unleash it".
'Really nice person'
"[Rob] was a very hard working and conscientious colleague, running clubs, teams and also looking to help develop the department and its teaching methods," he said
"As a teacher, he was very positive with students and had high expectations. He had a growth mindset, which he used in his teaching to great effect.
"He saw potential in all and did his best to help unleash it. He often saw something in a student that they had not realised themselves.
"He will be very fondly remembered as a really nice person," Mr Fox said.
Steve Parker, a former coach at Ramsey AFC, where Mr Campbell was a popular player, described him as "one of the nicest lads you could meet".
He said: "All the cliches apply when you're speaking about Robbie. He was just a fantastic lad to be around.
"He was the first name on my team sheet. He always gave 100% and he lit up the dressing room.
"I only spoke to him recently. It's just unbelievable."
Other friends and pupils of Mr Campbell have been using his school department's Facebook page to pay tribute.