Isle of Man heroin plot: Two Ramsey men jailed over plan to import drugs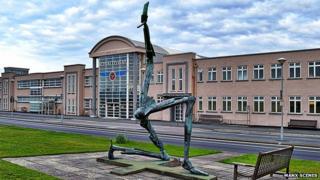 Two men from Ramsey have been jailed for plotting to import heroin valued at £22,600 into the Isle of Man.
David Bonnar, 36, was sentenced to seven years and six months while Scott Carbutt, 32, received six years and 10 months at Douglas courthouse.
The pair each pleaded guilty to four charges earlier this month, including that of possessing heroin with intent to supply.
Both men were arrested at the Isle of Man's Ronaldsway Airport on 14 October.
Det Sgt Paul Holland said bringing drugs into the Isle of Man was a "very serious offence".
"Clearly the sentences handed out reflect what you can expect if you take the risk and get caught".