Lucia Porter death: Family rules out Craig Bridgewater sentence appeal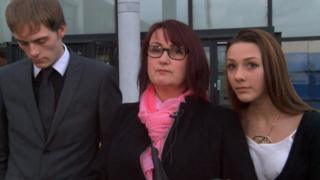 A mother from the Isle of Man says she will not seek a longer jail sentence for the man who was driving the car in which her teenaged daughter was killed.
Craig Bridgewater, 18, from Peel, was jailed for three years last week after pleading guilty to causing Lucia Porter's death by dangerous driving.
The 14-year-old was one of eight teenagers in a Ford Fiesta when it crashed near Peel on 8 March.
Julie Porter said it was "time to give the Bridgewater family some closure".
Mrs Porter said she had been "utterly overwhelmed" with the support her family had received.
She said: "I find it extremely difficult to move on from this but, in order to keep my own sanity, I have to draw a line underneath everything and attempt to put the broken bits slowly back together."
But in the same statement she also criticised the complete "lack of remorse" shown by Bridgwater.
Bridgewater, who only held a provisional licence and was uninsured, had been driving the car with permission from the owner at the time of the crash.
He has also been banned from driving for five years.