The Great Laxey Wheel maintenance work to cost £250,000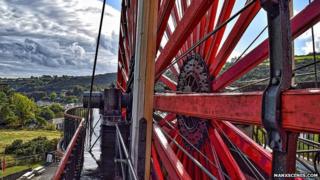 A £250,000 maintenance project has begun on the world's largest working water wheel, located in the Isle of Man.
The Great Laxey Wheel, situated in the east of the island, is expected to be clad in scaffolding until next year.
The 72ft (22m) diameter wheel was designed to run pumping machinery to bail water from the local mine.
The work will include stone masonry, timber repairs, rendering, the removal of vegetation and painting.
Director of Manx National Heritage (MNH), Edmund Southworth, said: "This major project will help insure the integrity of the Laxey Wheel as a national landmark for future generations to enjoy and demonstrates Manx National Heritage's commitment to the ongoing preservation of the Lady Isabella as one of the Isle of Man's most iconic historic monuments".
The wheel, also called the Lady Isabella, was designed by the Victorian engineer, Robert Casement and completed in 1854.
The site is owned by the Isle of Man government and maintained by MNH.