Fishing and tourism 'safe' from green energy plans, says government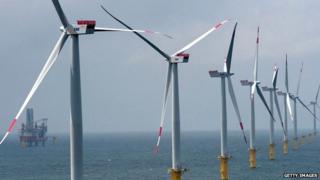 Offshore wind or tidal power schemes will not be developed at the cost of other industries, a Manx government minister has said.
On Tuesday, plans to lease areas of the seabed for £5m a year were confirmed.
Infrastructure minister Phil Gawne said: "It has to be a real benefit and not come at the cost of other industries like fisheries or tourism."
Manx Wildlife Trust said it "supports renewable energy" but urged a "precautionary approach".
"The development cannot compromise the integrity and function of the marine environment and must avoid damage to nationally and internationally important features." said marine officer Lara Howe.
She added: "It is difficult to comment specifically on potential impacts as there are too many unknowns."
The Isle of Man owns its territorial sea out to the 12-nautical mile limit and has responsibility for marine planning and zoning over approximately 4,000 sq km of the Irish Sea.
It is expected that turbines will be visible from the Manx coastline.
Mr Gawne said an economic assessment had already looked at existing constraints such as shipping lanes and fishing.
"Our fishing industry is worth £13m so if it wipes out half the industry then it simply isn't worth it."
DONG Energy, which operates seven wind farm projects in the British Isles, has been chosen to develop a site off the east coast.
The proposed 700 MW wind farm could include up to 100 turbines and power 400,000 homes and could be developed by 2023, said a spokesman.
Manx Tidal Energy Ltd and Tocardo Tidal Energy Ltd have been chosen to develop tidal schemes at potential sites at the Point of Ayre, Calf of Man and Castletown.
Any power generated will be used in the UK and not the Isle of Man.
The Isle of Man Steam Packet Company said the proposed locations "do not compromise Isle of Man sea routes."