Cells arrive on Isle of Man for new £2.8m custody block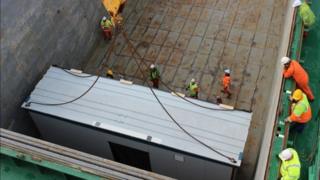 Thirty police cells that will lock together to create a new multi-million pound custody block in Douglas have arrived on the Isle of Man.
The £2.8m facility at police headquarters will replace the existing 40-year-old block at Lord Street which has been deemed unfit for purpose.
Home Affairs Minister Juan Watterson said the block was needed to meet more stringent demands of safer detention.
The 20-cell building is scheduled for completion in March 2015.
Mr Watterson added: "The new design will support our commitments to community safety and protecting vulnerable people".
The scheme is part of plans by Department of Home Affairs to consolidate all Douglas detention facilities into one location.
Lord Street is one of three police stations due to close next year following cuts to the police budget.