Harlequin ladybirds: Isle of Man residents asked to help 'eradicate' alien species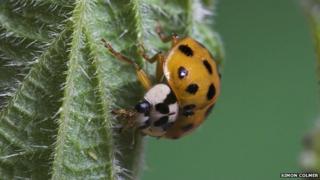 People in the Isle of Man have been asked to help "eradicate" an alien species of ladybird before it "damages the island's ecology".
Harlequin ladybirds, bigger than most native species, have been found on the island for only the second time.
The Manx environment department warned domestic species could be damaged if the newcomers take hold on the island.
Experts believe the Harlequin species, from Asia, could ultimately threaten the existence of 1,000 British species.
The 6-8mm long Harlequin ladybird, whose colour varies from yellow-orange to black, can have up to 22 spots.
Their larvae are black with an orange.
'Stop the invasion'
The species settled in the UK from Asia in 2004 and rapidly spread but have only rarely been spotted on the Isle of Man.
Those studying the Harlequin ladybirds' invasion found that they were significantly less susceptible to parasites which prey on native species.
The environment department's Zac Hall said the island's wildlife could be "significantly affected".
"It is a highly competitive and invasive species that has had impacts elsewhere on native species and agriculture," the MHK added.
According to the department, larvae and adults have only been spotted at one site in Santon.
Anyone who finds the species is asked to contact the Department of Environment, Food and Agriculture.
A spokesman said the species "may be destroyed immediately" if found, and that records should still be submitted.
Mr Hall added that the "greatest chance of stopping an invasion lies in the early stages".