Isle of Man horse tram changes to cost up to £4m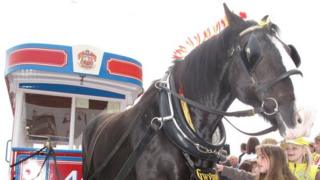 Plans to relocate the Isle of Man's horse tram tracks on Douglas promenade could cost about £4m, the Manx infrastructure minister said.
Phil Gawne revealed the cost at the House of Keys on 4 November.
The proposals involve moving the tracks either to the highway side of Marine Gardens or directly on the promenade walkway.
According to Douglas Council, the horse tram service ran at a loss of about £250,000 this year.
Mr Gawne said although the proposed scheme has not yet been finalised, he was expecting the cost to be in the region of between £3m and £4m.
He added: "This will be the case whether the tracks are placed at the side of the road or more directly on the walkway".
The Douglas horse trams have been in existence since 1876.
Last month, the proposed changes were the subject of a public exhibition at the Sea Terminal.
The service finished on the 17 September and is not due to start again until 2016 after work to move the tracks is completed.