Isle of Man: Weapons amnesty launched by police for the next month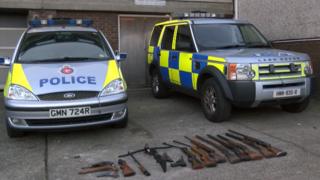 Members of the public have been asked to hand in illegal firearms and weapons as part of a month-long amnesty in the Isle of Man.
More than 150 items including swords, grenades, a pistol, ammunition and shotguns were surrendered during the last amnesty in 2005.
A police spokesman said everything from "knuckle-dusters to knives can be surrendered".
Secured weapons can be brought to one of four designated police stations.
They are in Douglas, Ramsey, Castletown and Peel.
The scheme has been authorised by the Attorney General and no-one handing in items will be prosecuted during the amnesty, which runs until 30 November.
Police have advised anybody who is unsure about how to check any weapon's condition to contact them.
Several rifles have already been handed in.