Toxin levels halt Isle of Man king scallop fishing season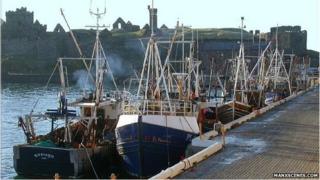 The opening of the Manx king scallop fishing season has been delayed due to excessive levels of shellfish toxins.
The season, which begins on 1 November, was halted on the west coast of the island after tests showed abnormally high levels of domoic acid.
Excessive levels of the naturally-occurring substance, stored in the scallop's digestive system, can cause amnesic shellfish poisoning (ASP).
Symptoms include nausea, dizziness and, in rare cases, death.
Domoic acid is a natural neurotoxin produced by marine algae (phytoplankton) which king scallops feed on.
Plankton bloom
Unusually high levels were caused by a bloom of the phytoplankton this summer.
Levels of domoic acid in shellfish are regulated by EU legislation - all other Manx fisheries were found to be safe, a Manx fisheries department spokesman said.
"Levels diminish naturally and will drop as the scallops metabolise the domoic acid," he added.
"The department is keeping the industry fully updated and thanks it for its co-operation".
Traditionally, the Irish Sea king scallop season runs between 1 November and 31 May - the last time it was delayed because of domoic acid was in 2003.
The Manx government said the situation will continue to be monitored.