Victoria Road prison site redevelopment plans published by government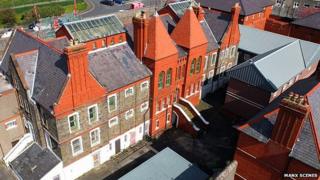 Plans for the redevelopment of a former Victorian prison in the Isle of Man have been published by the government.
Sheltered accommodation, affordable housing and a church are amongst ideas being considered for the Douglas site.
Infrastructure Minister Phil Gawne said his department will support redevelopment that "best serves the needs of the local community".
Having being used for 117 years, the Victoria Road jail was decommissioned in 2008 and demolished in 2012.
Prisoners were transferred to a new £41.7m jail in Jurby.
Isle of Man prison history
•The crypt at St. German's in Peel was the Isle of Man's first prison between 1229 and 1780
•In the 18th Century Castle Rushen was converted into the island's second jail
•Victoria Road prison in Douglas opened on 20 June 1891
•The Isle of Man's current prison in Jurby opened in 2008, costing £41.7m
The Department of Infrastructure (DoI) has published a set of guidelines for potential developers, outlining its requirements for the site.
Mr Gawne added: "This is a prominent site in Douglas and potential developers will have to demonstrate a high quality design that will contribute positively to the surrounding area.
"There has been a lot of public interest in the future of this site and I'd like to thank all those who responded to the consultation."
A DoI spokesman said the department's brief takes into account feedback generated during a six-week public consultation earlier this year.
The two-acre site faces on to Victoria Road, Victoria Avenue and Poplar Terrace.