E-cigs banned from Isle of Man health buildings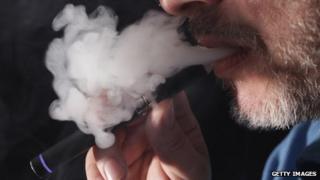 The use of electronic cigarettes has been banned in all Isle of Man Health and Social Care buildings with immediate effect.
Health minister Howard Quayle said it strengthened efforts to make premises healthy and smoke-free environments for staff and visitors.
The policy follows the publication of a report by the World Health Organisation (WHO) earlier this summer.
It is the first such ban imposed in the island's government buildings.
Mr Quayle MHK said the danger they could pose to public health remains "largely unknown", but initial findings are "concerning".
The battery-powered devices deliver a hit of nicotine and emit water vapour to mimic the feeling and look of smoking.
1. On some e-cigarettes, inhalation activates the battery-powered atomiser. Other types are manually switched on
2. A heating coil inside the atomiser heats liquid nicotine contained in a cartridge
3. Liquid nicotine becomes vapour and is inhaled. The 'smoke' produced is largely water vapour. Many e-cigarettes have an LED light as a cosmetic feature to simulate traditional cigarette glow.
According to the WHO report published in August, legal steps need to be taken to end the use of e-cigarettes indoors - both in public spaces and in work places.
Experts for the world health body also warned the products might pose a threat to adolescents and the foetuses of pregnant women.
According to a health department spokesman, e-cigarettes have been shown to "increase the exposure to nicotine and a number of toxicants of non-smokers and bystanders".
A government spokesman said other departments will make their own decisions.