Diver Eric Warburton 'died in the sea' off Isle of Man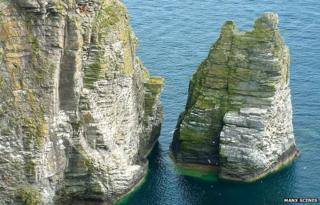 A keen diver with 40 years' experience died in the sea off the Isle of Man as a result of an "undiagnosed heart condition", an inquest heard.
Eric Warburton, 62, from Greater Manchester was diving near Sugarloaf Rock off the island's south coast when he collapsed on 2 May.
Coroner John Needham said exertion combined with an unknown heart issue resulted in sudden heart failure.
He told Douglas courthouse Mr Warburton died from "natural causes."
The court heard he became unresponsive shortly after resurfacing with dive partner Gareth Jones.
The boat's crew and his fellow divers took turns to try to resuscitate him as they returned to Port St Mary where they were met by the coastguard and ambulance.
"Cared passionately"
He was declared dead on the pier but Mr Needham said he had died in the water.
Mr Needham praised their attempts to save him and said "everything that could have been done was."
He added that Mr Warburton "died doing what he loved."
The hearing was told a post-mortem examination found no specific cause of death - but did uncover a previously undiagnosed heart condition.
Mr Warburton's diving equipment was all working properly, and data from his diving computer found no evidence he had problems during the 15m (49ft) dive.
The 62-year-old, who worked as a chemist at the University of Manchester, started diving as a teenager but had not dived for more than two-and-a-half years.
He was visiting the Isle of Man with seven members of the Bury Sub Aqua Club to celebrate a member's 40th birthday.
Mr Warburton's sister said he "died doing something he cared passionately about."