Isle of Man lifeboat rescues yachtsman "swept out by tide"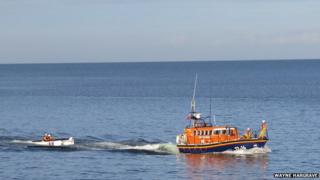 The Manx lifeboat was called out to rescue a yachtsman after his damaged catamaran was "swept out by the tide" off the north coast of the island.
The sail boat, which had a broken mast, was spotted by a member of the public near Cranstal at about 16:00 BST on Saturday.
An RNLI spokesman said The Hobie Cat, which had one person on board, was in difficulty off the Point of Ayre.
He added that the yachtsman was "cold and wet but otherwise unharmed".
The catamaran was towed on to Ramsey beach at about 17:40.