Sandbag wall protects 18th Century dock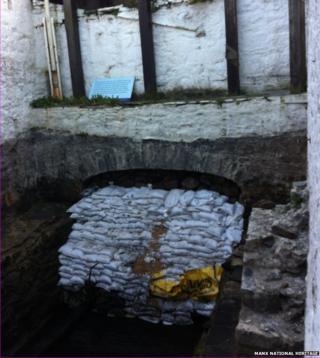 A sandbag wall has been built to protect an 18th Century dock discovered during an archaeological dig to unearth one of the world's oldest yachts.
In April a UK team of archaeologists excavated the Castletown cellar where the vessel 'Peggy' had been stored for 120 years in the Isle of Man.
According to Manx National Heritage, it was built for politician and bank owner George Quayle between 1789 and 1793.
Alison Fox of MNH said the sandbags will protect "venerable timbers".
During the excavations more than 50 tonnes of 19th Century landfill were removed from under Mr Quayle's former Castletown home.
Rather than the expected slipway, a beautifully constructed dock was discovered, which would have enabled Mr Quayle to float her gently in and out of the boathouse in the late 1700s.
The removal of ground however left part of the dock vulnerable to the sea that still fills and empties the dock each day.
Volunteers from the Civil Defence have now built the wall of sandbags to protect the timbers until they can be further examined.
Ms Fox said it was a "daunting task with with numerous logistical challenges".
"The sandbag wall will protect the fragile gates over the coming winter and help ensure the protection of this unique part of the Island's maritime heritage".
After Mr Quayle's death, the boat was locked away for almost 120 years, until it was rediscovered in 1935.
Edmund Southworth, of Manx National Heritage (MNH), said "Internationally, Peggy is quite simply one of the world's oldest yachts to survive."
MNH is currently embarking on a five-year programme to remove, conserve and study the vessel.
It is thought the boat was used by Mr Quayle for leisure purposes and to carry important mail to Liverpool.