Isle of Man TT: Petition launched to save 'iconic' scoreboard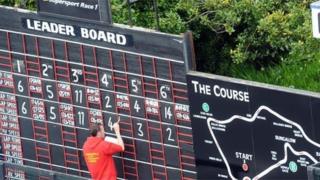 The Isle of Man TT scoreboard which has stood for more than 100 years will be dismantled for road works to go ahead, the government has confirmed.
More than 680 people have signed an online petition to save the "iconic" scoreboard which sits on Glencrutchery Road opposite the TT grandstand.
Engineers said steel supporting for the scoreboard is likely to need replacing.
Campaigners fear it will not be replaced and a petition spokeswoman said it was "unique in motorsport."
The Department of Infrastructure said scheduled road works would require the scoreboard to be dismantled by 2017.
A DoI spokesman said structural engineers had assessed that the steel supporting the scoreboard looked like it would need to be replaced.
The petition spokeswoman said: "Losing the Isle of Man TT historic scoreboards would be like taking Ballaugh bridge out of the TT circuit".
In a statement the Department of Economic Development (DED) said it "understands the passions of the fans and of the importance of the history and heritage associated with the scoreboard".
It continued: "No decisions have yet been made but these will be factors taken into account in any final decision."
The DED Motorsport Team said it was currently reviewing all options including a manual scoreboard, a digital scoreboard or a combination of the two.
A separate health and safety risk assessment was also carried out during the 2014 TT with concerns raised by the clerk of the course over the position of the scouts who work the scoreboard during races.
A working party has been set up and a safety fence could be in place by the 2015 event.