Isle of Man plaque unveiled to mark Knox birthday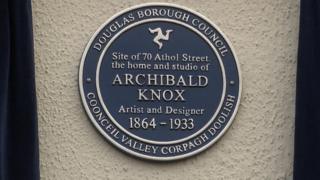 A second plaque has been unveiled in the capital of the Isle of Man to commemorate the 150th anniversary of the birthday of Archibald Knox.
The tribute is situated in one of the sunken gardens on Douglas promenade close to where the Manx designer studied at the Douglas School of Art.
Knox, one of the foremost designers in the English Art Nouveau movement, lived in Douglas for much of his life.
In April a blue plaque was fitted at his former family home on Athol Street.
Archibald Knox, the fifth child of William and Anne, was born on 9 April 1864 in Cronkbourne Village, Tromode. He was educated at St Barnabas Elementary School and at Douglas Grammar School.
In 1899 he began designing for Liberty & Co and became known particularly for the new Celtic design work - much of which was inspired by ancient crosses on the Isle of Man.