Rare sunfish spotted in Isle of Man waters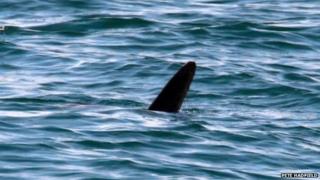 A rare sunfish has been photographed by marine wildlife enthusiasts off the north coast of the Isle of Man.
The creature was spotted by Wendy Gawne and Pete Hadfield near the Point of Ayre on 7 September.
The unusual sighting was subsequently confirmed by The Manx Society for Marine Conservation (MSMC).
The last official sunfish spot was in 2010 when a kayaker photographed one about half a mile out from the Dalby coast in the west of the island.
A society spokesman said: "What an interesting visitor the Isle of Man has had this weekend. It just goes to show, you never know what you will see around the island when you take the time to look".
The sunfish, which can weigh up to 2,200 lbs (1,000kg), swims on its side on the surface to gain heat from the sun, which is how it got its English name.
The species thrives in tropical and semi-tropical water.
Earlier this summer, scientists from the Plymouth Marine Laboratory predicted warmer sea temperatures would begin to attract an increasing number of exotic species to the British coastline.
In July a bluefish tuna was hauled out of the sea by kayakers in Kingsand in Cornwall.