Festival sees highest visitor numbers for a decade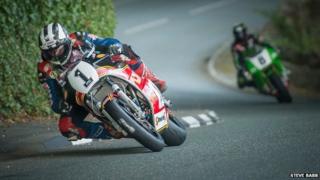 The number of people visiting the Isle of Man during last month's Festival of Motorcycling was the "highest for a decade", ferry operators have said.
According to Steam Packet Company figures, passenger numbers were up by 1,100 to 29,460.
There was also an 11% rise in the number of motorcycles brought to the island at 3,697.
A spokesman said the figures are the "highest for the racing fortnight for more than a decade."
It continues a positive trend for passenger figures this summer, which included the busiest TT period since its centenary in 2007 and a 6% increase in July passenger numbers compared with 2013.
The fortnight-long motorcycling festival, formerly called the Manx Grand Prix, takes place in the Isle of Man at the end of August.