TT 2014: Sunflower girl raises £1,500 for injured marshal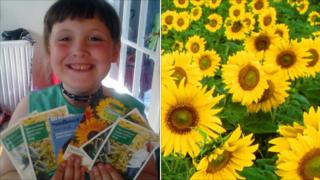 A seven-year-old girl from the Isle of Man has raised £1,500 for a TT marshal injured at this year's races by growing sunflowers.
Cici Reed decided she wanted to raise funds for Paul Hunt as he "looked sad" in a picture after he crashed while inspecting the course in May.
Cici, from Peel, said: "It's nice to do something for other people."
Mr Hunt, known locally as Big H, is still receiving treatment for spinal injuries.
Cici's mum Alison said: "Not bad for a seven year old - it is all her idea she is amazing."
The youngster was recently the guest of honour at a dinner for TT marshals on the island.