Largest ever Joey Dunlop bike collection goes on display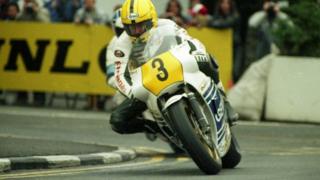 The largest ever one-off collection of Joey Dunlop's race motorbikes has gone on display at the TT Grandstand in the Isle of Man.
Twenty-six machines ridden by the TT's all time leading winner will be exhibited during the Classic TT, which will also see a memorial lap held.
Dunlop died at a race in Estonia in July 2000, aged 48, weeks after completing a hat-trick of TT wins.
He won 26 TT races - five more than John McGuinness, who is still racing.
David Cretney MHK said it is a "stunning collection."
'Appropriate tribute'
The free pop up exhibition runs until Monday and features 26 authentic machines raced by Joey Dunlop in his 24 year career.
The machines have been loaned from collectors, friends and members of the Dunlop family.
Mr Cretney said: "We wanted to pay an appropriate tribute to one of road racing's greatest names and what better way than to assemble the finest collection of his race bikes for the first time.
"We have had a brilliant response from the bike owners in loaning their machines and are very grateful for their generosity. "
Isle of Man Classic TT organisers said this year's event has been given a 1980s theme, with particular attention given to Dunlop's career.
There will also be a parade lap featuring his 26 biggest career rivals, with appropriate representatives when a rider is unavailable.