Isle of Man recycling campaign launched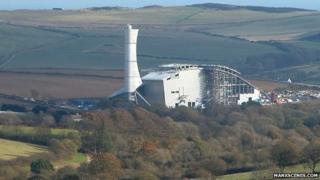 A recycling campaign has been launched in the Isle of Man urging people not to put hazardous waste in wheelie bins.
What is in Your Bin? is a joint initiative between environment group, Zero Waste Mann, and Sita - operators of the island's Energy From Waste Plant.
It is being publicised by leaflets highlighting recycling options.
A spokesman said items such as gas cylinders, tree stumps and car batteries were not household rubbish.
He added: "There have been a number of occasions where we have had to temporarily shut down our normal operation and remove items such as these.
"They cause blockages which can result in interruptions to the company's generation of electricity, which feeds into the electricity network".
Rubbish collected from Manx households is taken to the Energy From Waste Plant outside Douglas, although there are numerous recycling facilities and four civic amenity sites on the island.
Douglas Council also runs a kerb side recycling collection service.
Muriel Garland, from Zero Waste Mann, said: "Many items which are being placed in wheelie bins can easily be recycled, with little effort.
"We hope that this initiative will serve as a strong reminder that we can all help to protect our environment by following a few very simple guidelines".