Isle of Man WW1 internment camp stamps fetch £6K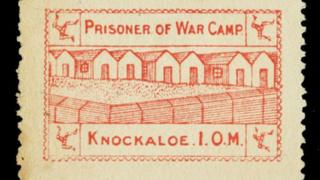 Five stamps from a World War One internment camp on the Isle of Man have been sold for about £6,000 at an auction in London.
The stamps were from the Knockaloe camp post office.
A spokesman from Stanley Gibbons stamp specialists said they were discovered by the daughter of a former camp guard in her late father's belongings.
Until 1981 it was believed only one unused sheet of 21 stamps, held in the Manx Museum, existed.
The Isle of Man became the second largest settlement of internees in the British Isles during WW1.
There were 25,000 Germans, Austrians and Turks brought to the island and held at Knockaloe
The camp was purpose built using prefabricated huts, with 23 compounds divided between four camps.
It had its own railway line and post office.