War prayers in new Manx poppy garden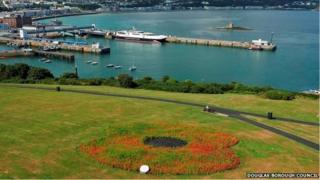 Prayers will be said at an outdoor ceremony in the capital of the Isle of Man, to mark the 100th anniversary of the outbreak of World War One.
The ceremony is to take place at a newly planted poppy garden on Douglas Head at 22:00 BST.
Street lights on the headland will be turned off for the one-hour memorial.
Archdeacon Andrew Brown will lead the service during which two large images of poppies will be projected on to the Douglas promenade war memorial.
Other events to be held around the Isle of Man include a candle-lit vigil at the National War Memorial at St John's and a march from the Manx Legion Douglas Branch to Victoria Pier at the Sea Terminal, where a wreath will be laid.
The wreath will be taken aboard the evening ferry sailing to Liverpool and thrown to sea by the captain in honour of those who served during the Great War.
Government records show that 8,261 men enlisted in the armed forces, which was 82.3% of the Isle of Man's male population of military age.