Isle of Man celebrates 50 years of 'crowd pulling cars'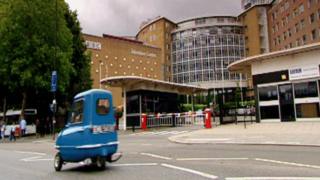 The Isle of Man is to host a festival to celebrate the 50th anniversary of the world's smallest production car.
The event, at the start of August, will see the arrival of more than 20 Peel micro cars.
The P50 and Trident models were first manufactured in the west of the Isle of Man in 1964 by Peel Engineering.
Peel Car enthusiast, Grant Kearney said: "Fifty years after the launch of the Peel P50 this iconic little car remains a real crowd puller."
Designed and built by Cyril Cannell and Henry Kissack, the P50, has three wheels, one headlight, three gears and no reverse.
The smallest vehicles to go into mass production, the vehicle is 134cm (53in) long and 99cm (39in) wide, with a weight of just 59kg (132lbs)- its 49cc engine allowed a top speed of 38mph (61km/h).
Currently the company, under new ownership, makes bespoke Peel models.
The Manx festival, which has been organised by the Isle of Man Transport Museum, will open on 1st August, when the cars will be taken from Douglas to Port Erin on the Steam Railway.
From the south of the island they will drive to Peel to congregate in the town where they were originally made.
Isle of Man Post Office has created a series of stamps to mark the occasion.