Early engine repairs for Isle of Man Manannan ferry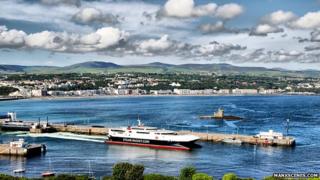 Repair work on the Isle of Man's ferry is to take place earlier than planned, after one of its four engines was damaged by discarded fishing gear.
The Steam Packet company said the Manannan fast craft had been operating on reduced power since June.
Repairs had been scheduled to take three days during September, but a revised plan means the boat will be repaired in just one day, on 6 August.
Passengers booked to travel on this day are asked to contact the ferry company.
The Manannan runs from Douglas to Liverpool.