Largest replica Viking longship ever built visits Isle of Man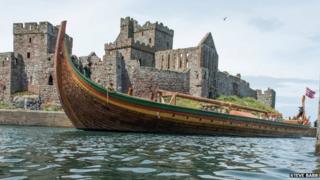 A Viking longboat roughly the size of half a football pitch has arrived in the Isle of Man.
Hand-made in Norway over two years, the 114 ft (35-metre) Dragon Harald Fairhair is the largest replica Viking longship ever built.
Powered by a crew of 30, and 3,200 sq ft (300 sq m) of pure silk sails, it arrived in Peel on Tuesday and will depart at 16:00 BST on Wednesday.
The boat is named after Harald Fairhair, the king who unified Norway.
'Journey of a lifetime'
Building the vessel was the dream of Norwegian businessman Sigurd Aase.
It is based on the late-Viking Age Leidang ships of the Norse Sagas, which continued to be used in Norway into the early Medieval period.
The crew's voyage began on 5 June after extensive testing on the coast and fjords of Norway last summer ahead of its journey to Liverpool.
A MNH spokeswoman said the "journey of a lifetime" has "not been without drama" after one of the boat's largest masts snapped while crossing the North Sea.
Captain Björn Ahlander made the decision to continue the trip without a sail and with a slightly altered route through the Caledonian Canal.
This is the ship's first major voyage since it was built in 2012. It has 25 pairs of oars, and needs at least two people on each to be steered efficiently.
During normal sail operations a crew of about 30 can sail the vessel.
According to MNH it is a voyage that the Vikings would have known well and is similar to that achieved by the crew of Odin's Raven, the replica Viking longship now housed in the House of Manannan, which was sailed to the Isle of Man from Norway in 1979.