WW2 veteran Hector Duff, 94, receives Tynwald honour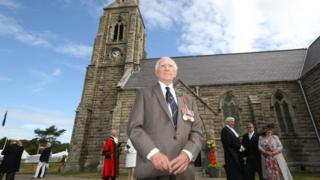 An Isle of Man WW2 veteran who was involved in the D-Day landings in 1944, has received the highest Manx honour at a ceremony.
Normandy veteran Hector Duff, 94, from Onchan, was recognised with the Tynwald Honour for his "services to the public in conflict and peacetime".
Clare Christian, the President of Tynwald said Mr Duff had given "exemplary service" to the island.
Recipients are entitled to use the abbreviation "TH" after their name.
It recognises those who have made an outstanding and selfless contribution to Manx life over a significant period.
Mrs Christian added: "His empathy with young people has led him to be invited to many of our schools and led to their greater understanding of war."
Mr Duff was recently awarded the French Legion d'honneur from President of France at the 70th anniversary of the D-Day landings.
His Manx award was presented to him in the Royal Chapel in St. Johns as part of the Tynwald ceremony on Monday.
"I'm accepting this medal for all those who lost their lives in the D-Day landings - they are the people I am thinking about today," said Mr Duff.