Viking Longboat World Championships attracts 800 rowers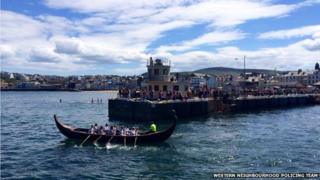 About 800 people have competed in the 51st Viking Longboat World Championships in the Isle of Man.
The event was scheduled for Saturday but was postponed for 24-hours due to strong winds in Peel Bay, where the annual races are held.
Fargher's Lift Men won the men's title, while Central Young Farmers claimed the women's title.
Seventy-four crews competed over a near 1,312ft (400m) sprint, with each member using an 11ft (3.3m) oar.
The men's winners completed the course in one minute 53 seconds. The fastest women's team finished in two minutes 19 seconds.
Raven Raiders won the mixed event, in one minute 55 seconds.
Nigel Rawlinson, chairman of the Viking Longboat Association, said it had been an "incredible spectacle with phenomenal interest".
"The strong winds were an issue on Saturday but we used it as an extra day to celebrate," he said. "The crowds were massive."
Each team completed at least two practice runs in preparation for the event, which was first held in 1963.
Roy Baker has competed in the event for the past 40 years.
"We are described as a team of drinkers who row," he said.
"It is great fun and we keep coming back."