Douglas promenade cycle lane removed for 12 month trial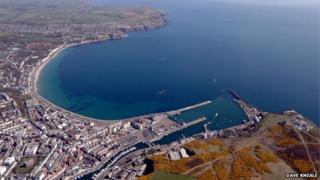 A cycle lane on Douglas Promenade has been removed in a bid to encourage a "mix of recreational users to the area", infrastructure bosses have said.
Cyclists are now free to use the full width of the promenade having previously been restricted to a narrow lane on the seaward side.
Traffic and Safety Manager Kevin Almond said it is hoped the move will create a "more family-orientated space".
The Department of Infrastructure will run a trial for 12 months.
A spokesman said they would monitor the impact on pedestrians and cyclists during the trial.
He said: "While there may be concern that cyclists and pedestrians do not mix safely, current research 'paints a very different picture'.
"Evidence provided by organisations such as the Transport Research Laboratory, Sustrans and the Cycle Touring Club suggests a high degree of safety where the user groups are not segregated".