About 50 Veteran and Edwardian cars mark TT car centenary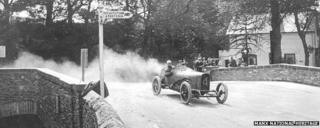 About 50 cars, representing every year from 1902 to 1918, will visit the Isle of Man on Monday to celebrate the centenary of the 1914 TT car race.
Amongst the steam and petrol powered vehicles will be two of the original cars which took part in that race.
The cars, from all over the UK, will tour the TT course and visit other parts of the island for three days.
All 45 Veteran and Edwardian cars will assemble at the TT Grandstand at 09:00 BST on Monday.
The vehicles belong to members of the North West section of the Veteran Car Company of Great Britain.
'Patriotic TT'
The club was established in 1930 to help preserve, restore and encourage the use of Veteran (up to and including 1904) and Edwardian cars (1905 to 1918).
Chairman Philip Lucking said: "The Isle of Man is one of our favourite places to visit. We come every four years and it is a very popular event.
"This year we have a record 45 steam and petrol-powered racing, touring and town cars and we plan to celebrate the centenary of the last TT car race before the great war known as the patriotic TT."
Twenty-three cars entered the race in 1914, held over 16 laps of the Mountain Course, a total of 600 miles (965 km), help over two days.
The race was won by Kenelm Lee Guinness in a Sunbeam.
That year the fastest lap of the course was an average speed of 59 mph compared to the current record of 117.510 mph set on a one-off lap by Manx rally driver Mark Higgins earlier this month.