Manx Telecom Parish Walk: 1,500 start 85-mile challenge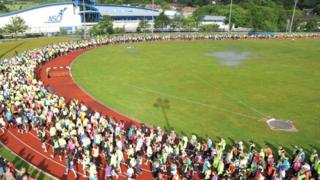 About 1,500 walkers have started the 101st Manx Telecom Parish Walk in the Isle of Man.
The event, in which participants visit all 17 of the island's parishes, was first held in 1923 although other versions date back to 1848.
To complete the walk people will need to cover 85 miles (137km) in 24 hours.
Last year hotelier Michael George from Douglas won the endurance event in its 100th year in a time of 14 hours, 44 minutes and 49 seconds.
'Jelly babies and tea'
The 47-year-old's time was just over two minutes outside the race record.
Janice Quirk was the leading lady in sixth with just 215 of the 1,400 who started completed the full race distance.
Race director Ray Cox, himself a finisher, said: "It is a real community event which shows the Isle of Man in its truest and best light.
"Thousands of people come out to cheer the competitors on, offering them jelly babies and cups of tea."
Mr Cox said it had the potential to be one of the most competitive races in recent year.
Walkers have the option of pulling out at any stage but typical targets are Rushen after 19 miles or Peel after 32 miles.
A spokesman for the event said it was the "ultimate endurance challenge for race-walkers".
Four-time winner Jock Waddington said: "It covers so much of the island that everyone gets to see some of it and it's very special to be part of.
"To win you need to be very physically and emotionally strong."
Everyone who reaches Santon will receive a centenary medal.
The winner is expected to finish between 22:30 and 23:00 BST on Saturday.