Isle of Man TT competitor died of 'blunt force trauma'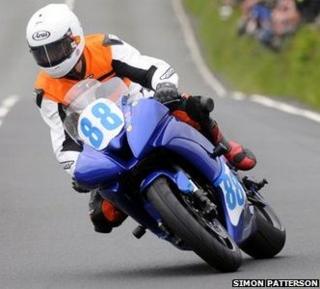 A motorcyclist who was killed during the first Supersport race at the Isle of Man TT died from "massive blunt force trauma", an inquest has heard.
Bob Price, 65, from Stroud, Gloucestershire, died in a crash at Ballaugh on the third lap of the 37.5 mile (60 km) Mountain course on 2 June.
The car repair shop owner first competed at the TT in 1992.
At a Douglas Court House on Wednesday, Coroner John Needham returned a verdict of death by misadventure.
He said: "The race and road conditions were very near perfect and they did not contribute to the accident in any way.
"Bob Price's death was a tragic consequence of a racing accident, he was a seasoned road racer who died following his passion which of course does not make it any easier for his family and friends".
The inquest also heard that Mr Price suffered a broken neck in the accident, which occurred at Ballaugh Bridge.
His racing career highlights include a third-place finish in the MGP Junior Classic and runner-up in the Senior Classic, both in 2002.
Mr Price was one of two riders to die in the 2014 TT races- the other being Karl Harris who died of multiple injuries in the Superstock TT on 3 June.