Isle of Man river pollution incidents increase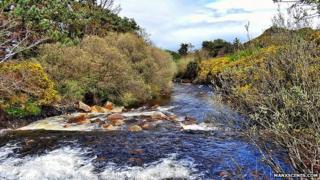 A 17% increase in river pollution incidents has been recorded in the Isle of Man in the last year, according to the latest government report.
The environment department said the number had risen for the second consecutive year from 20 in 2011 to 24 in 2012 to 28 in 2013.
Twenty-seven spills were "minor" but one was found to be "significant".
Most of the problems came after heavy rain from construction sites, quarry sites or newly-ploughed fields.
The government said that oil and sewage accounted for the rest of the cases.
In 2012 there were two major slurry spills on the Isle of Man that killed a substantial number of fish, which resulted in the Environmental Protection Unit (EPU) taking legal action.
Environment minister Phil Gawne said: "I'd encourage people to contact the EPU immediately they witness a water pollution incident, rather than leave it days or even weeks to report the problem, because by then damage may well have been done to the habitat and wildlife and the polluter not identified or held to account."