Isle of Man stop for Norse heritage project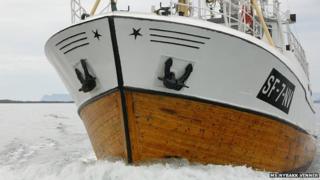 A floating museum will arrive in the Isle of Man from Orkney later this month as part of a Norse heritage tour called the Viking Thing Trail 2014.
The MS Nybakk Venner exhibition will dock in Peel harbour on 14 June.
The Thing Trail, an EU-funded project, highlights the historical links between Norway, Iceland, Faroes, Shetland, Orkney, Scotland and the Isle of Man.
It aims to promote understanding of Thing sites -ancient Norse meeting places- around the world.
'Disputes settled'
The word Things comes from the Old Norse word þing, meaning assembly - an early system of justice and administration.
A spokesman from Manx National Heritage said: "When the Vikings arrived in a new place they brought with them their customs and legal systems.
"Thing assemblies were where political decisions were made, laws upheld and disputes settled - they acted as meeting places and were often the focus for trade and religious activity."
Thing sites existed throughout the Viking world, with some still in existence today- Tynwald Hill in St John's is the venue for an annual sitting of the Manx Parliament.