TT 2014: Fifteen drink-driving arrests 'unacceptable'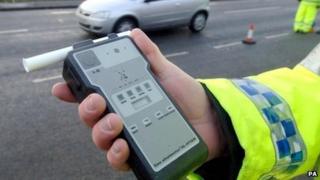 The number of arrests for drink-driving during the TT fortnight has been described as "totally unacceptable," by Isle of Man Police.
Fifteen motorists were arrested with nine charged, two on bail pending results and four facing no action.
Insp Dave Dobbie said more than half of those arrested were from the island.
He said on average two people are arrested for drink-driving on the island each week so the TT figure was "totally unacceptable."
Insp Dobbie said: "The Isle of Man Constabulary has significantly changed its style of policing the TT over the last couple of years, particularly with the use of social media.
"The messages that have been broadcast on Twitter have highlighted issues around the roads, and areas where speed detection is being carried out.
"It is disappointing that the message in relation to drink-driving still seems to be either missed or ignored. "
Police said official statistics will be released after they have had their full TT debrief but added that they had dealt with more collisions than last year.
Insp Dobbie added that Isle of Man Police will continue to be on the look out for drink-drivers during the World Cup which kicks off on Thursday.