Isle of Man ferry delays after fishing rope damage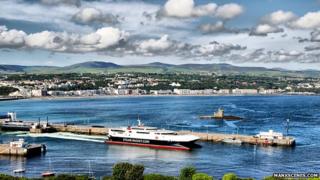 Delays are expected on a ferry route between the Isle of Man and the UK, after an engine was damaged by discarded fishing gear.
The Steam Packet company said the problem was discovered by divers at the height of the company's busiest time of year- the TT festival.
It means the Manannan fast craft must sail on reduced power which, operators said, will cause timetable disruption.
A spokesman said repair work will take place after the TT period.
He added: "We have campaigned long and hard about the risks from fishing gear discarded in Manx waters.
"We will advise passengers of any changes necessary to schedules as soon as we are able.
"It may be necessary to reschedule some sailings after the TT period to allow a permanent repair to be effected."