50p coin issued in honour of TT star John McGuinness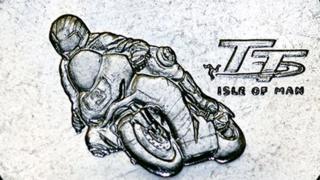 The Isle of Man has issued a new 50p piece to celebrate the achievements of 20-time TT winner, John McGuinness.
The coin features a picture of the Morecambe rider in action on the island's Mountain circuit.
The new addition to the Manx mint is a joint project by Isle of Man Stamps and Coins and the Manx Treasury.
A spokesman said the coin had been created in a bid to mark "the incredible achievements of the Morecambe Missile".
He added: "We are delighted with the coin - it was always going to be difficult to capture the excitement and spectacle of a John McGuinness TT race."
The 50p coin is legal tender and will go into circulation this week.