TT 2014: Ramsey bridge blow for sprint event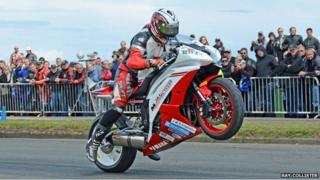 A Victorian bridge undergoing extensive renovation on the Isle of Man will not be open to vehicles in time for the Ramsey Sprint, it has been confirmed.
The Ramsey swing bridge is used by thousands of people attending the event which sees bikers compete over a strip of promenade a mile long.
A Department of Infrastructure spokesman said it would be open for pedestrians.
It is expected the bridge will be fully restored by September.
The DoI had expected to reopen the 120-year-old bridge by Christmas but said its condition had been "worse that expected".
The latest setback came in February after the wrong sized wheels were discovered by engineers in the bearing mechanism which moves the bridge.
'Complications'
Director of Ports Ann Reynolds said the delay was "a blow".
She added: "The safe rebuild of the whole bridge cannot be done in time to allow vehicles to use the bridge during the TT, which I very much regret".
The bridge will be swung into position so that pedestrians can use it for the day on Tuesday.
The access will now be from North Sure Road only. Clerk of Ramsey Commissionaires Peter Whiteway said it would present "some complications".
Mr Whiteway said: "People will have an option to park on the south side of the river and walk across and have a look around the town or they face some congestion.
"There are definitely traffic implications for organisers and police".
The Department of Infrastructure said the unexpected work would be completed within their £750,000 budget for the repairs.