Majority support for break with English GCSE system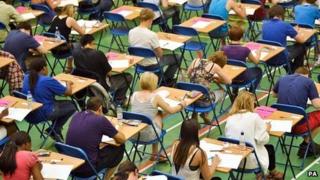 About 90% of people who submitted views during a consultation would support the idea to break from the new English GCSE, education, officials have said.
Changes in the UK mean exam boards currently used on island will no longer exist in their present form from 2015.
A Department of Education and Children (DEC) spokesman said the response was "unequivocal."
About 800 people submitted views during a consultation into proposals to adopt a replacement for the English GCSEs.
The three options are to adopt the new English GCSEs, or move to the International GCSE or Scottish National system.
Education officials said 90% of people supported a break with the English system if there was a benefit in doing so.
'Clear direction'
Early analysis shows 82% of those who submitted views during the six-week consultation would find a move to the IGCSE, owned by Cambridge University, "acceptable".
The IGCSE, which has 500,000 entries each year, is graded A* - G, while the new GCSE in England will be graded from nine (high) to one, with no coursework in most subjects.
Paul Craine of the DEC said: "The consultation indicates a higher degree of consensus than we had expected and adds weight to the possibility of breaking with the English system and adopting the International GCSE".
The DEC said about 60% of responses came from parents and a further 25% from teachers.
More than three quarters of respondents disagreed qualifications should be based solely on end-of-course examinations and less than 14% supported entirely exam-based assessment.
Department officials said they were continuing to analyse the data and wanted to provide schools with a "clear direction by July".