Isle of Man fishery closure plan prompts concern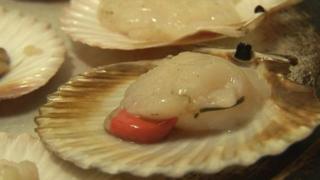 Speculation that the Isle of Man's Queen Scallop fishery could close throughout 2014 has prompted concern from the fishing industry.
The Manx Fish Producers Organisation (MFPO) said the move could have a detrimental effect on the Manx fleet.
Bangor University research showed Queenie stocks in Manx waters are currently 50% lower than normal and about 90% down on their 2011/2012 peak.
Scientists have recommended a fishery closure to allow stocks to replenish.
A MFPO spokesman said: "It is no good to our members if we take the necessary steps to protect the long-term future of the Queenie fishery but lose Manx fishermen along the way.
"Provided we make the right decisions now we should emerge with a more consistent fishery going forward, well managed and regulated and providing security for the Manx fleet and the Manx processors."
'Unpopular decision'
The government said a meeting will be held on Friday to determine the course of action.
It will be attended by scientists and industry representatives from the Isle of Man, Scotland and Northern Ireland.
Fisheries minister, Phil Gawne said: "We have a difficult and delicate line to tread between taking an unpopular decision now to ensure the longer term future of this important industry and limiting the impact on those who fish for queenies for a living, and on the wider economy."
The Queen Scallop fishing season is subject to change and restrictions, but traditionally runs between June and October.
Last year the industry brought in about £2.5m to the island but the government said that amount would have been doubled after processing.