New cycling facility opens at Archallagan Plantation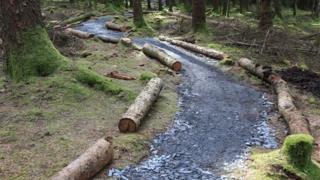 The Isle of Man's first dedicated junior mountain bike course has been opened at Archallagan Plantation.
About 80 tonnes of slate have been used to create the 1km course which includes a series of obstacles and jumps.
The facility is the first of a series of six developments at the plantation by the End to End Committee
The Committee's Kate Evans said they were now looking to install graded cycling trails and a skills centre.
Mrs Evans said the course was the first legacy facility of the annual End to End race which attracts 1,700 cyclist each year.
She said: "To develop and build the island's first dedicated junior mountain bike race track is fantastic.
"The End to End is such a popular event and so it's important we build on this by providing a legacy that will benefit future generations of cyclists and racers".