Training scheme for Isle of Man whale watch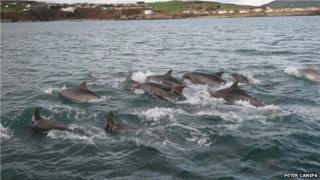 Marine experts are running workshops to train people how to survey whale and dolphin activity around the coast of the Isle of Man.
The scheme, which is run by the Manx Whale and Dolphin Watch (MWDW), will teach people how to identify and record marine wildlife from land.
A spokesman said the data will help determine "distribution and abundance".
The free courses, which start in June, will be held on a monthly basis at the Manx Wildlife Trust building in Peel.
Jen Adams from the MWDW said the aim is to develop a network of observers to cover all of the designated sites around the Manx coast.
"Surveying from land is also the only true way to watch these animals behaving naturally in their environment," she continued.
"This way, we can watch from afar without producing any disturbance, allowing us to study how they feed and socialise with one another and how they interact with other species.
"Once confident, the observers go off and carry out surveys themselves."
Two training courses have already taken place this year in preparation for the summer season.
There are currently seven people trained to observe, four of whom are already surveying for the charity on a regular basis.
Anyone interested in attending is asking to contact the MWDW directly.
The Manx Whale and Dolphin Watch was established in 2006 and carries out land and boat-based surveys.