Isle of Man coast road crash driver cut free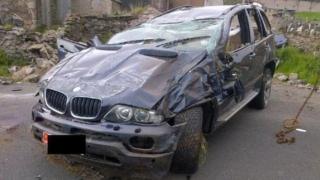 A man has been cut from his vehicle and taken to hospital after a crash in the Isle of Man.
The driver of the BMW X5 was trapped upside down in his vehicle following the crash on the Peel to Kirk Michael coast road on Monday afternoon.
Fire crews from Kirk Michael and Peel removed the man on a spinal board and he was transferred to Noble's Hospital by a waiting ambulance.
No other vehicles were believed to have been involved in the crash.
There are no details on the man's injuries.