Glasgow 2014: Queen's baton continues Isle of Man tour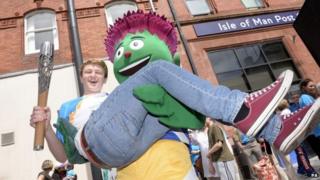 The Queen's baton has continued its tour of the Isle of Man tour as part of a nine-month journey around the Commonwealth nations and territories.
The baton is on the island for four days before continuing onto Northern Ireland on Tuesday.
It is being carried by members of the largest ever Manx Commonwealth Games team, due to compete later this year.
Baton carrier and Isle of Man cyclist, Laura Wasley said: "It is a real honour to carry the Queen's baton."
She added: "The whole event is getting everyone really excited about Glasgow, it feels like a really important part of the event."
A dozen Manx swimmers, gymnasts and cyclists will carry the baton on the Isle of Man leg of its nine-month journey.
The Commonwealth Games is the highest level at which a Manx sportsman or woman can represent the Isle of Man.
The baton contains a message from the monarch which will be revealed at the opening ceremony on 23 July.
'118,000-mile relay'
An Isle of Man Commonwealth Games Association spokesman said the relay was an "integral part of the build-up to the Glasgow games."
The Queen started the 118,000-mile relay at Buckingham Palace on 9 October 2013.
The relay tour of the Commonwealth has happened in some form since the 1958 British Empire and Commonwealth Games.
Within the top of the baton are granite gemstones, with one given to each place it has visited as a memento of the relay.
After the Isle of Man, it travels to Northern Ireland, Wales and England before ending its journey with a 40-day tour of Scotland.