Isle of Man tram horse dies after stroke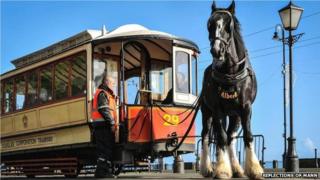 A tram horse has died after suffering a stroke while pulling a tram along a promenade in the Isle of Man, Douglas borough council has confirmed.
A spokesman said the 17-year-old animal, called Albert, collapsed on Tuesday and was taken back to the stables on a trolley.
A council spokesman said a post mortem is due to be carried out this week.
Tram supervisor, Michael Crellin said during his 41-year career it was the first time a horse had died on duty.
He said all the tram horses were checked regularly by a vet, who knew the animals well.
Douglas Council said all the tram service staff dealt with the emergency "efficiently and professionally".