Job at risk in Isle of Man infrastructure department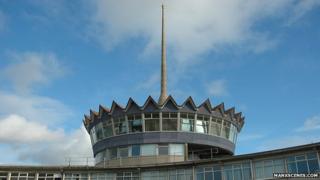 Further jobs are at risk in the Isle of Man's infrastructure department as part of plans to save £5m in the coming year, said the government.
Minister Laurence Skelly said a voluntary redundancy scheme was being reintroduced. It follows the loss of 100 full-time positions last year.
Infrastructure employs about 1,200 people and is the second largest department in government, after health.
"Compulsory redundancies will be the last resort," Mr Skelly said.
"Job cuts are not being considered in isolation - we are looking at a whole raft of measures to save money and raise revenue."
'Fair' parking
As part of these plans, infrastructure may introduce parking changes for civil servants and politicians, many of whom currently benefit from free spaces.
"If we do this, we would do it across-the-board, it would have to be fair," continued Mr Skelly.
"We are also looking at ways to commercially exploit the Sea Terminal building. It may be that we move the workforce."
In 2010, the island was left with a £175m hole in its budget - about a third of its projected total income - when the UK announced changes to its VAT revenue sharing agreement with the island.
Since then about 600 government posts have been cut - 8% of all staff.