'Disappearing Isle of Man' in Chris Killip Tate display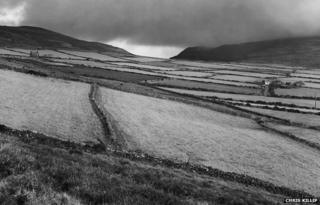 A collection of black and white images portraying a "disappearing Manx way of life" is currently on display at the Tate Britain in London.
The exhibition, featuring work from Manx-born photographer Chris Killip, depicts people and landscapes taken around the Isle of Man in the 1970s.
Mr Killip is currently the professor of visual arts at Harvard University.
He said: "I think this is the first time that portraits of Manx people have ever been shown at the Tate gallery."
Chris Killip was born at his father's pub on the Isle of Man- the Highlander Inn - in 1946. He became a beach photographer for Keig's Photographics in 1964 and later moved to London to take up a job as an assistant in Chelsea.
Mr Killip said he came back to photograph the island in 1970.
"It was still a holiday resort at that time so I worked for my father in the Bowling Green Hotel at night and went to London in the summer to earn money," he said.
Man at Glenmaye
The artist said when he took this picture he realised it would probably be the last time this man would be photographed.
"I still don't know who he is, if anyone can identify him for me I would be grateful," said Mr Killip.
Stanley Quirk
Stanley Quirk, said Mr Killip, is his cousin who lived and worked on Cooil-Sleau Farm in Greeba.
"Stanley looks so handsome in this photograph and I remember the jumper but not who knitted it- it was pale blue and lasted a lot of years."
The Faragher family
Some of Mr Killip's work from the time was later pulled together for a book called, The Isle of Man: A Book About the Manx.
Mr Killip said: "This is the Faragher family from Ballacomish Farm, they were such a nice family and I regret that I didn't include this photograph in my book."
The road at Ballakilpheric
The free exhibition, which includes 15 images of the Isle of Man, runs at the Tate Britain until September 28.